Brand Experience & Identity

I wanted to create a theatrical fandom experience that stands apart from other movie theater chains. We can accomplish this by providing unique entertainment that with a variety of options with indoor and outdoor theaters that celebrate fandom. Legion Cinemas.
Combining not only contemporary theaters with a lively atmosphere Legion Cinemas will give fans options to experience their favorite things beyond the screen.
We celebrate an inclusive environment that is fun for all ages but caters more toward an adult crowd. Our customers are film lovers that do not want their moviegoing experience ruined by those not interested in the films and events they are attending. We will cultivate a culture that celebrates these things and enhances them through special events and experiences such as activations, loyalty clubs with special events.
Join Our Legion
A Legion of fans unite at the place to experience film and fandom. Legion Cinemas and Cineplex provide first class film, gaming and entertainment experiences. Combining a retro sense of community with contemporary motifs the Legion experience is second to none.
Designed and developed by film fanatics and gaming enthusiast the Legion Cineplex will offer both indoor and outdoor activities including screenings, activations and unique experiences.

Color Theory & Brand Palette
Our bold, fresh and invigorating color palette consists of the cool tones of sea foam green tempering the warm offset color of clockwork orange. Our Primary set of colors invoke superheroes like Aquaman and a Kubrick classic that flaunts our fandom of film and entertainment. Grounding our two bright colors are Snow White and Greyhound with a standard black. This color combination exudes energy and pop-culture
with a contemporary slant.
Secondary colors also have a film twist to them and can be added as needed to create murals at the experience or for marketing materials.

Cineplex Overview & Configurations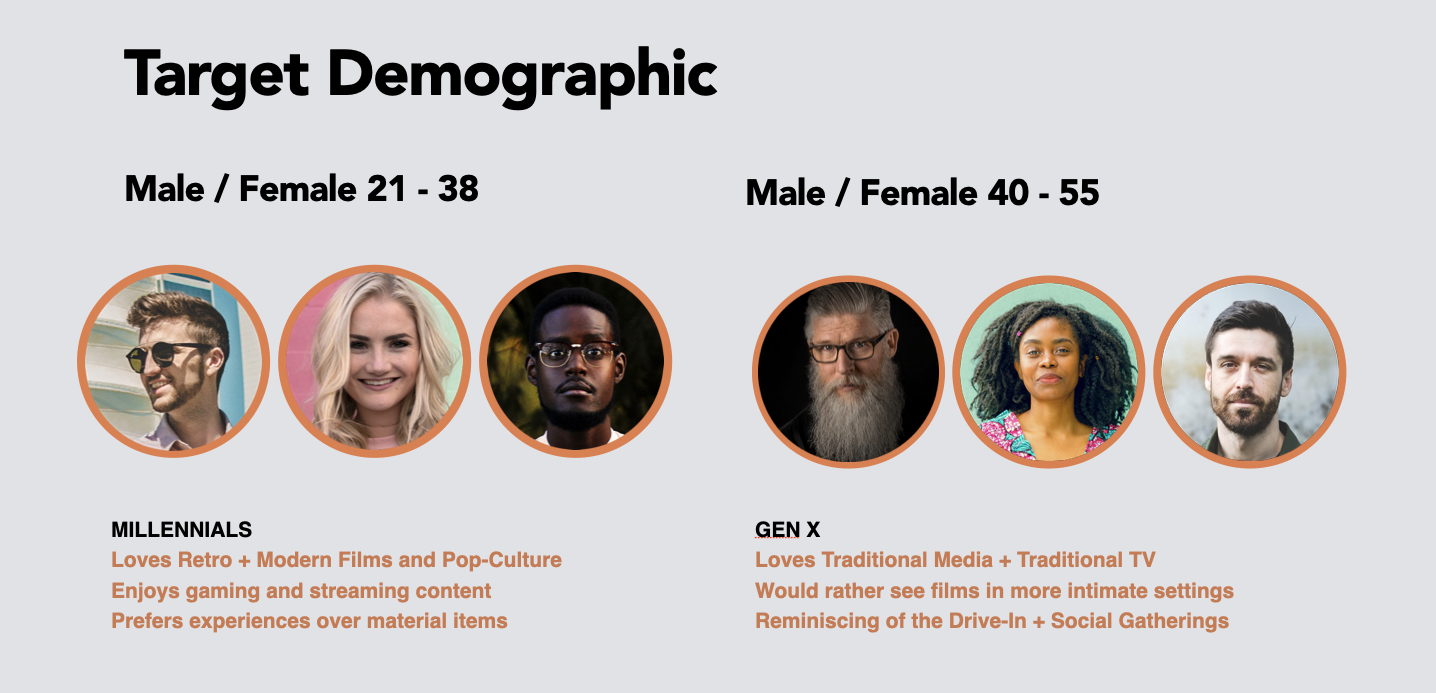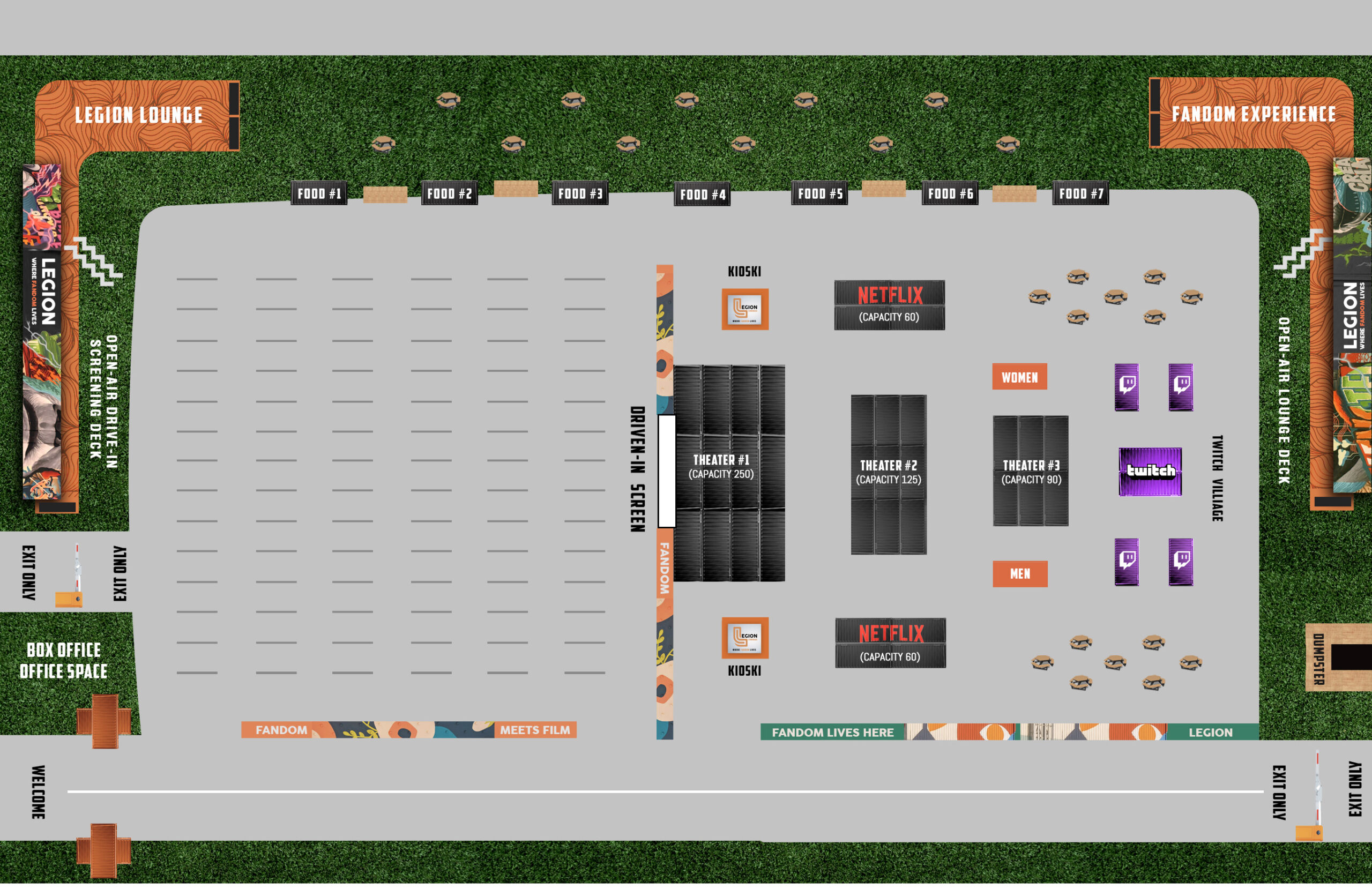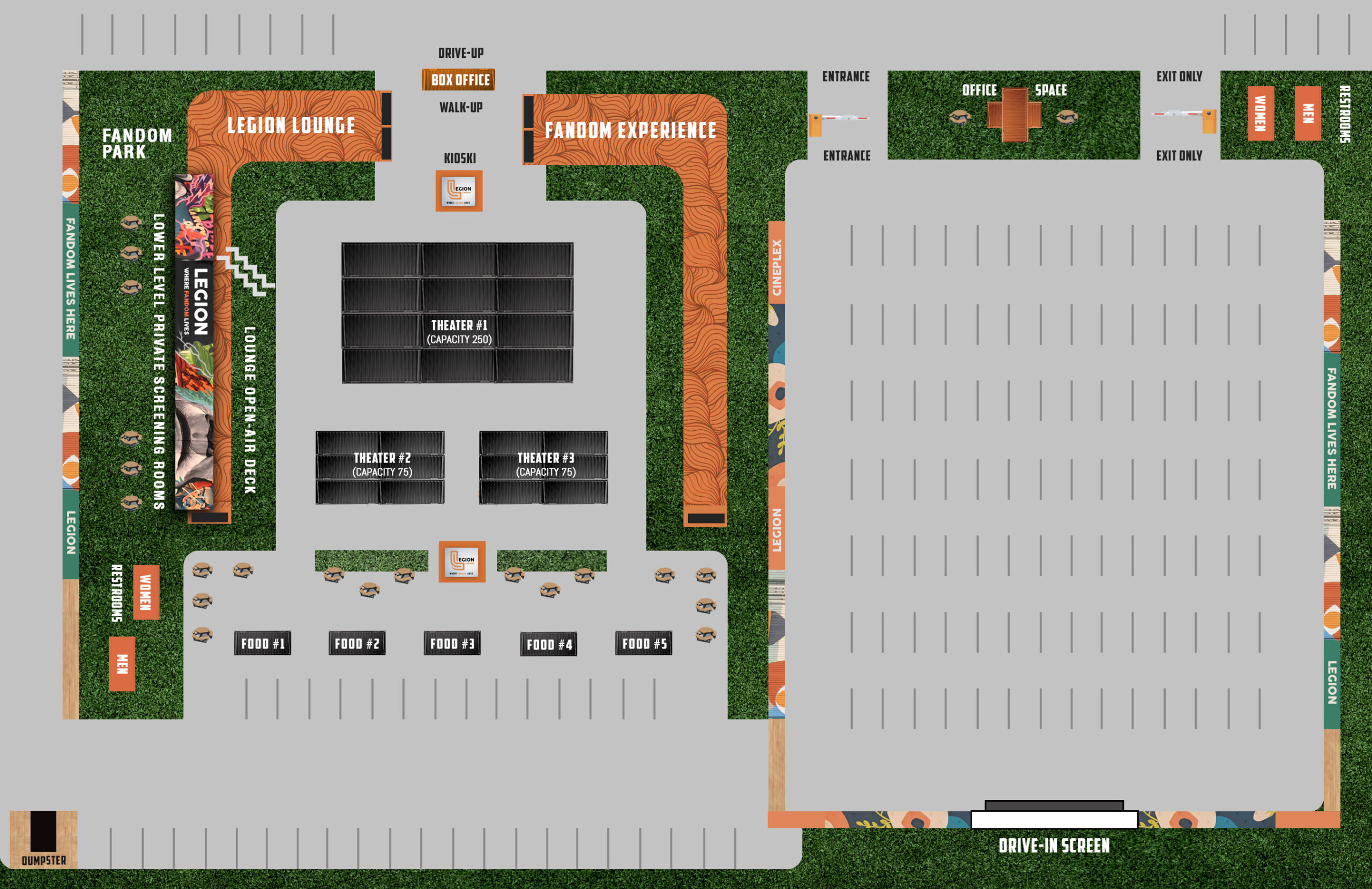 Interior Mood Boards
Our theaters will have a warm interior design with orange and black being the main color schemes.
The Legion Lounge will have neutral colors palettes with pops of color that mimic the exterior design.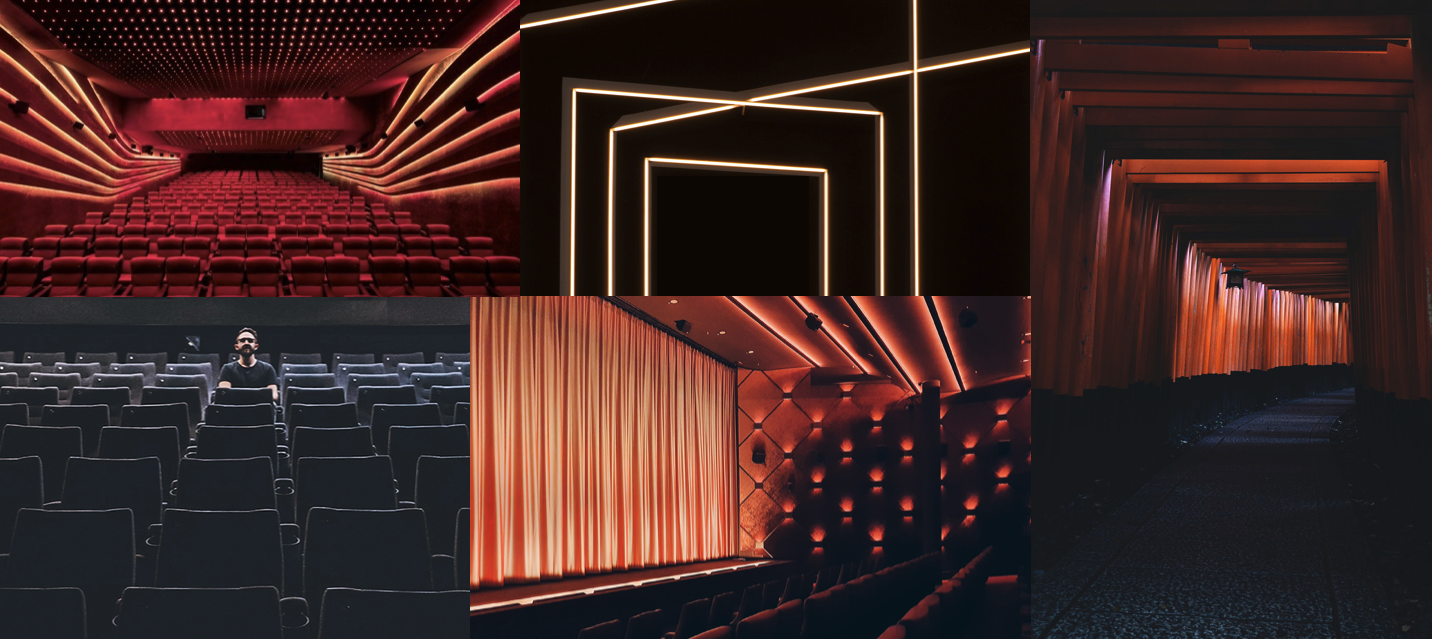 Exterior Mood Boards
The exterior design of the cineplex campus will feature our brand color scheme throughout various touch points. Artwork specific to movies can be found on our walls and the food vendors will have cool branded spaces that will add to the modern contemporary look.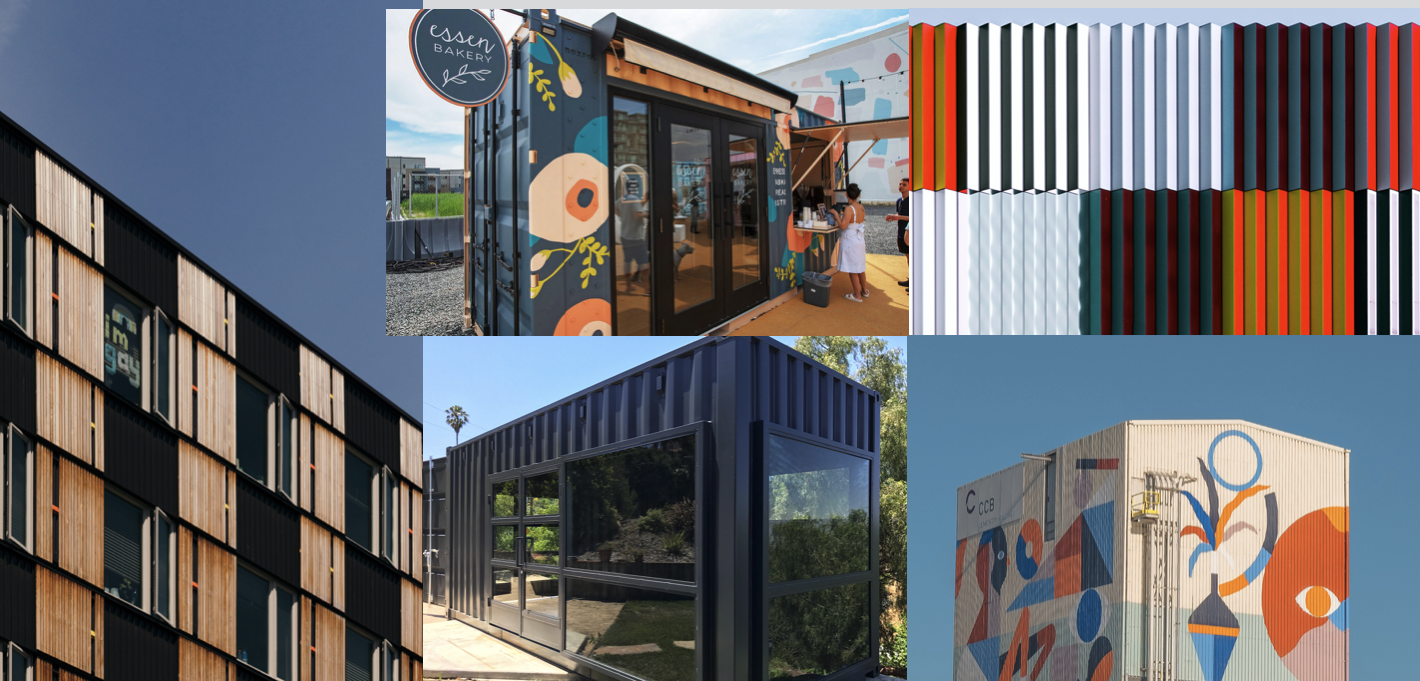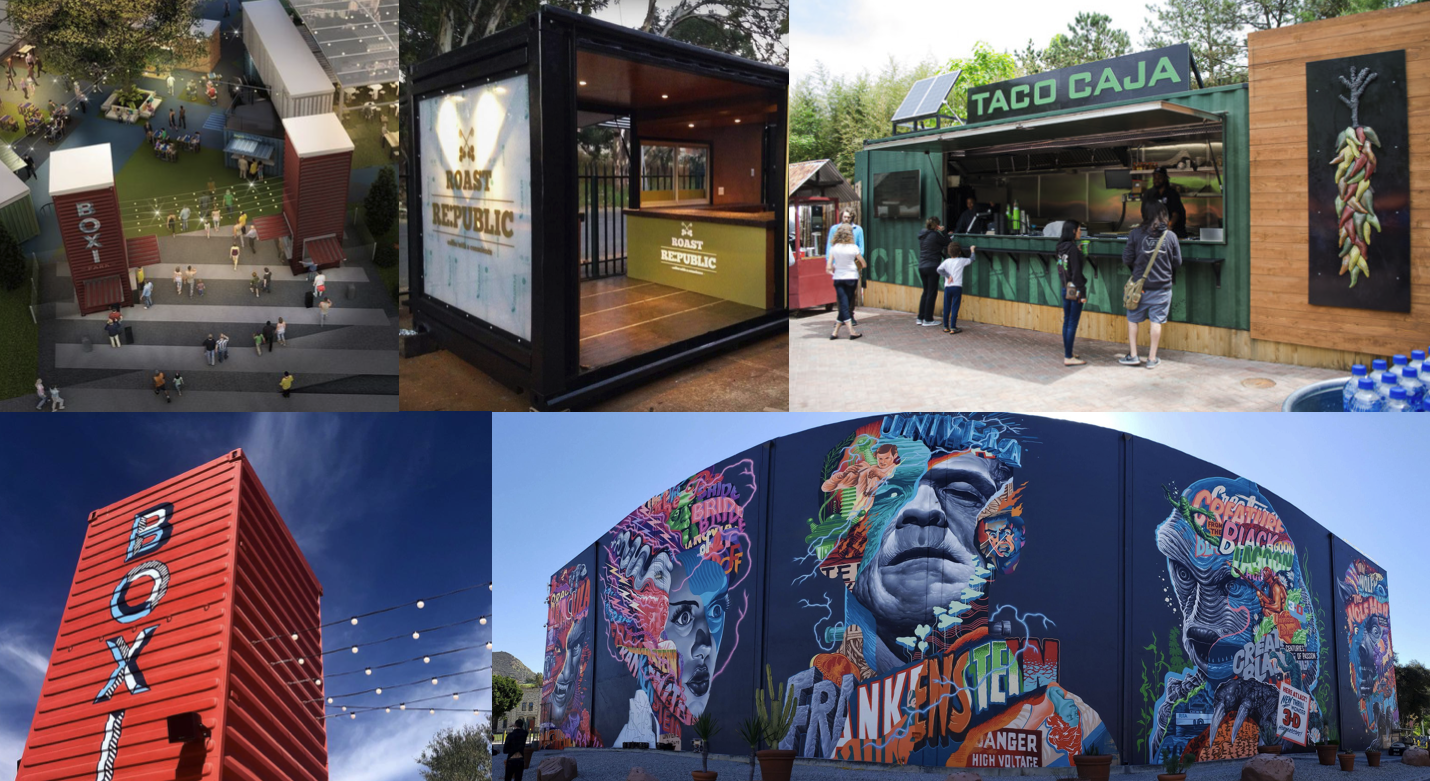 Sponsored Theaters
A branded partnership with Netflix would push our theater experience to a new level. Blending the traditional theatrical experience with a streaming giant gives us an edge over the competition. Netflix would provide advance screenings as a test market and special sneak peeks of upcoming original series and films that you won't see anywhere else in addition to their regular theatrical programming and streaming Q&A sessions after films with the cast and crew.
The flagship Netflix theater would be between 150-250 seats and also include in theater popcorn and condiment refills along with a water station so you don't have to leave the theater and miss any of the action.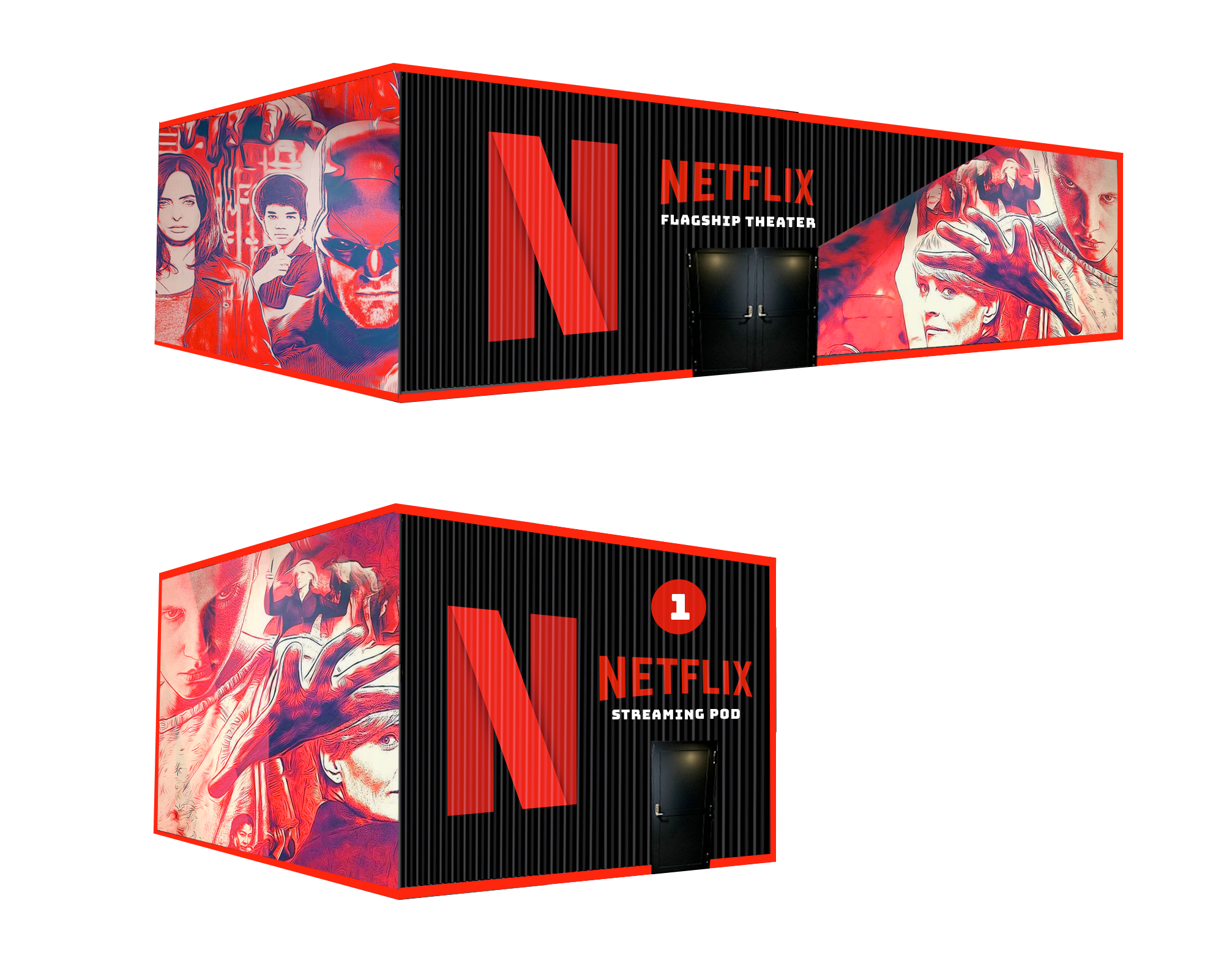 Private Screening Rooms & Viewing Decks

The bottom south half of the Legion Lounge will feature our private screening rooms inside the building. On top of the building directly above the private screening rooms will feature our viewing decks for the drive-in screens one and two.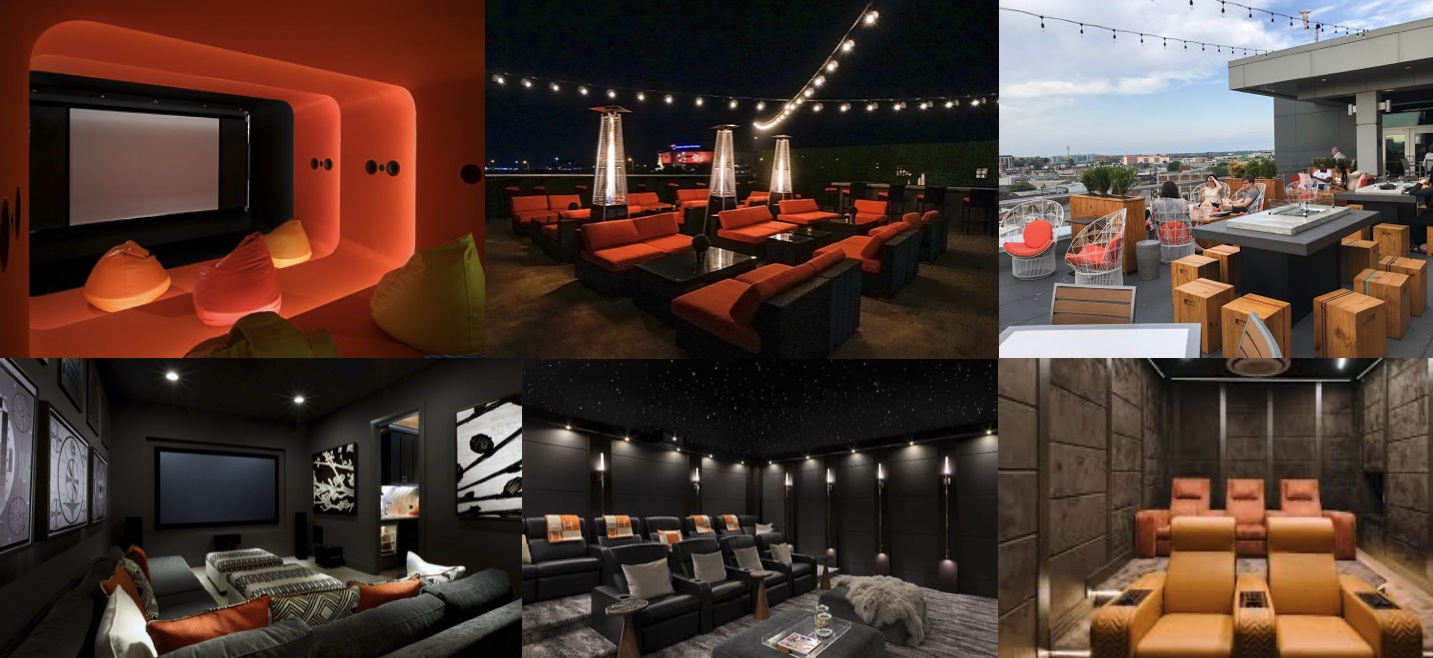 Gaming Mood Boards

The ever expanding landscape of gaming and streaming won't be shrinking anytime soon. It is only growing with popularity year after year. Providing a gathering space is an added bonus to our already robust entertainment experience. Forming a partnership with Twitch would create a unique experience and expand our fandom footprint. Twitch streaming pods would allow customers to play games, stream from different game systems and watch exclusive streaming events including first look at new beta games and other live events.