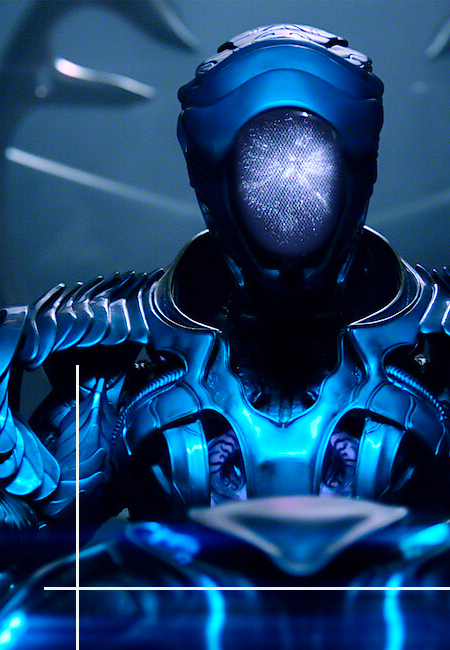 Leveraging a partnership with the Netflix Original 'Lost in Space' sets up a perfect 
mash-up of technology with an immersive experience. The "Lost in LG" 4D experience allows customers to explore an atmospheric environment through sight, sound and 8K pictures. The 88" LG screen acts as the rover windshield while customers explore strange new rich and vibrant space environments. Adding chairs that rumble as you navigate on screen would add an extra element that enhances the experience.

This could be achieved in store - but the idea really came to life at an off-site launch event.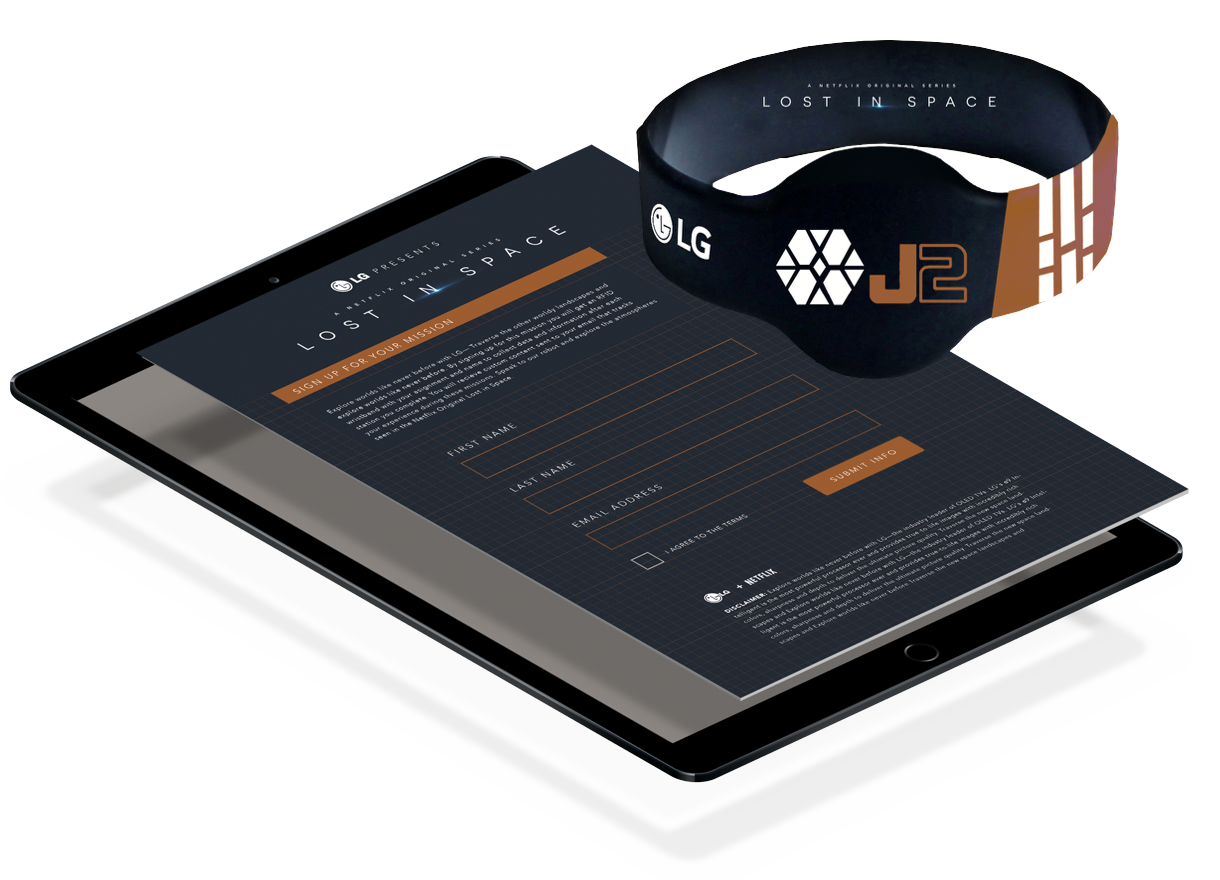 Fans that interact with the activation were prompted to sign up for an RFID wristband. 

The wristbands can be scanned at each station gathering new content from the experience. 

If they interact with our Robot Name Generator they were emailed a sound clip of their experience they can share on social. 

When they explored new atmospheres at the 8K TV they are able to see their name on the interface while driving the rover.
Launch Event: Atmospheric Brand Activation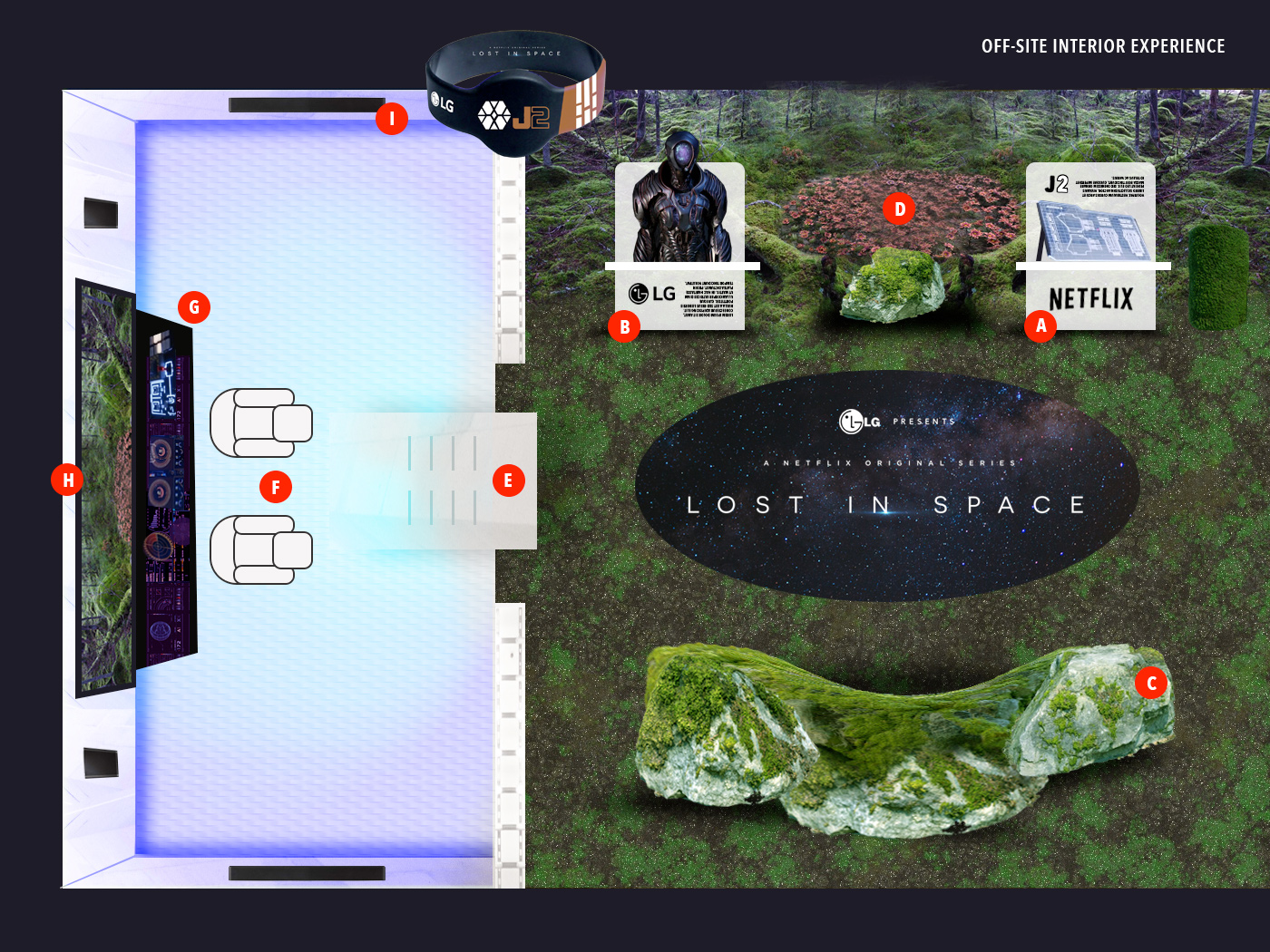 A: This station will allow fans to get an RFID wristband that will collect their name and email to personalize their experience.
B: Voice activated Robot bust. Customers
 can interact with the robot and ask 
questions about the show then get a customized audio clip to share on social.
C: Inside the acoustic cave fans can watch exclusive clips of season 2 on an LG TV. The cave is lined with acoustic foam to enhance the LG sound bar.
D: Electronic flowers brought to life by clapping to mimic the effect seen in the show. Could be a practical effect or done with an LED backdrop.
E: Rover ramp with blast of air that will shoot up when you enter the space.
F: Rumble chairs within the 4D experience. These chairs will react to what you are seeing on the 88" TV screen.
G: Rover dashboard.
H: 88" LG TV with atmospheric space landscapes for customers to explore.
I: LG sound bar and speakers mounted to the walls.
Microsite, Activation & Social Extensions

The co-branded off-site experience was expanded through digital and social channels with our "Lost in Space" microsite. Continuing with the co-branded approach the domain could be LGJupiter2.com or LostInLG.com which sells an immersive experience. 

When fans go to the site they will be greeted with messaging about exploring unique worlds from the Netflix series and a photo of Maureen Robinson who is the captain of Jupiter 2.
When users click on the "Enter the Rover" CTA on the homepage they are transitioned to an interface that is the same thing our customers experience in store. 

Using their keypad on desktop they could scan and pan the Lost in Space atmosphere looking at beautiful 8K imagery. 

The mobile version would offer a similar experience but instead of using the keypad they would just push and pull the screen as they view it horizontally.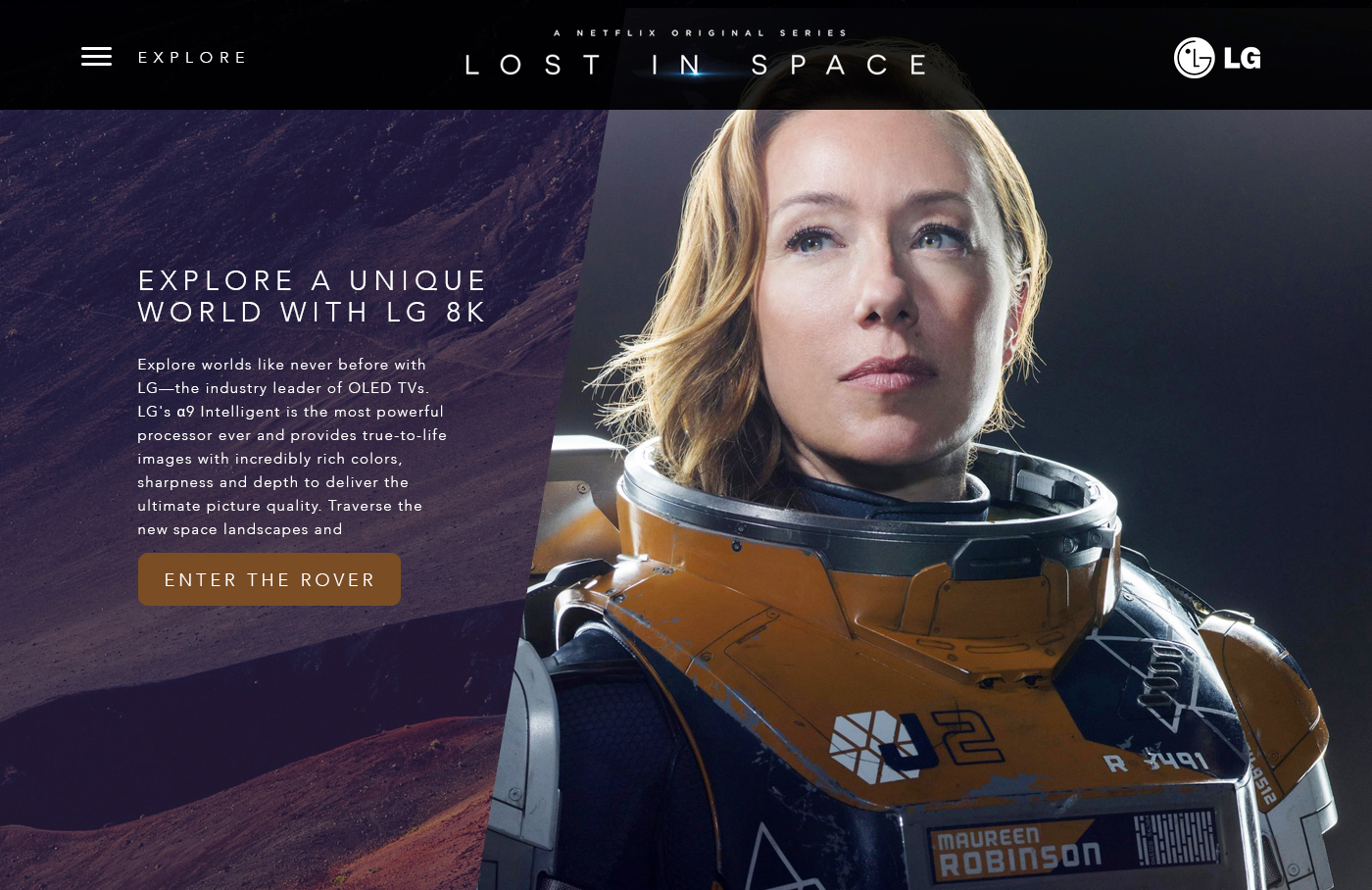 ROBOT NAME GENERATOR
When a fan interacts with our robot by scanning their RFID wristband they will be greeted and the purple light will pulse on the face of the robot. The fan will then prompted to state their name. Their response will be recorded. 

After they state their name the robot will respond with some dialogue before exclaiming "Danger, fan name!" 

They will then be prompted to go to the rover and explore the new world. 

The purple light will then fade out and the robot will go into a rest mode.
Fans will get their personal recording from the robot emailed to them. This could be replicated online and be a great piece of content for social.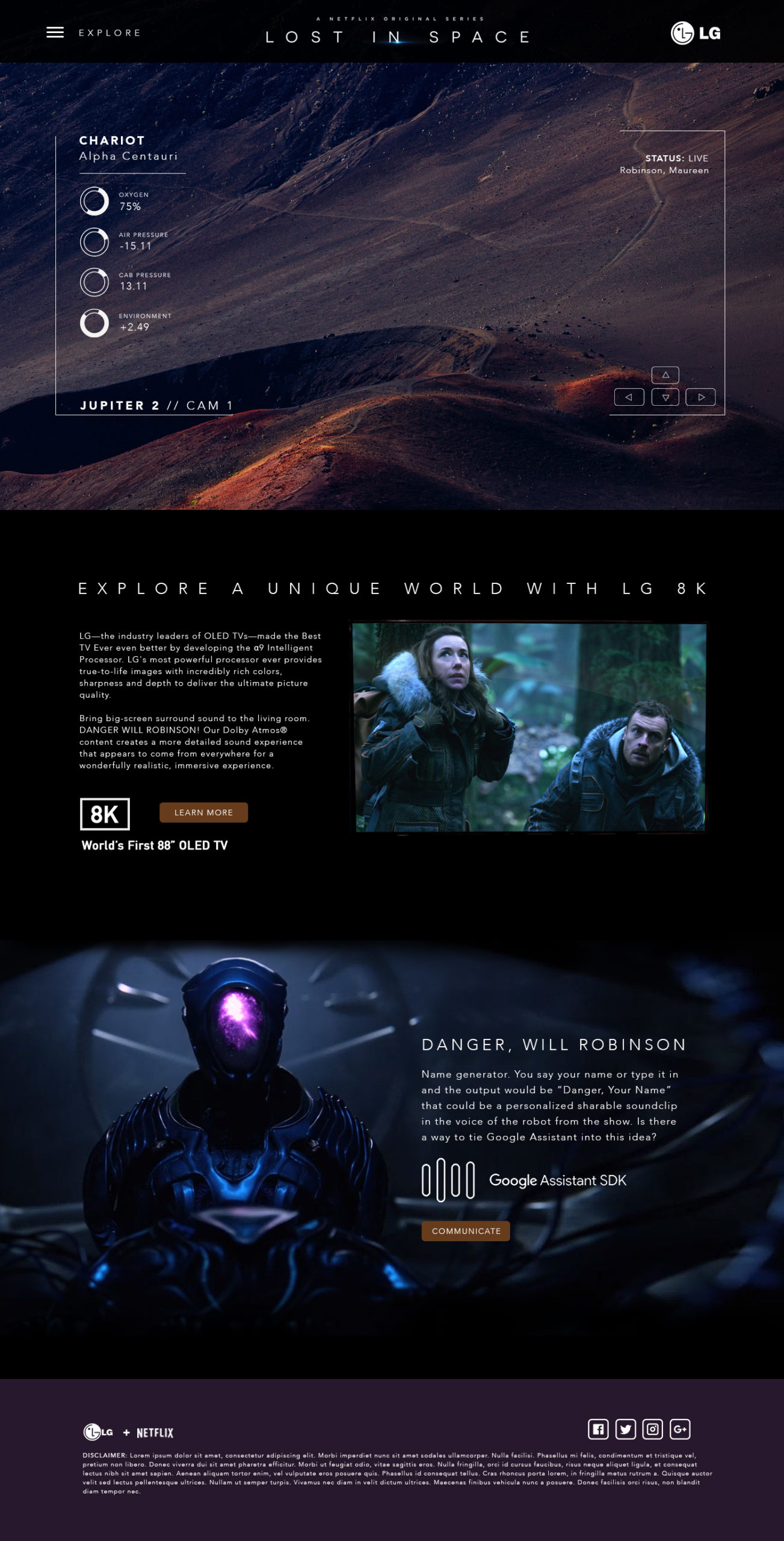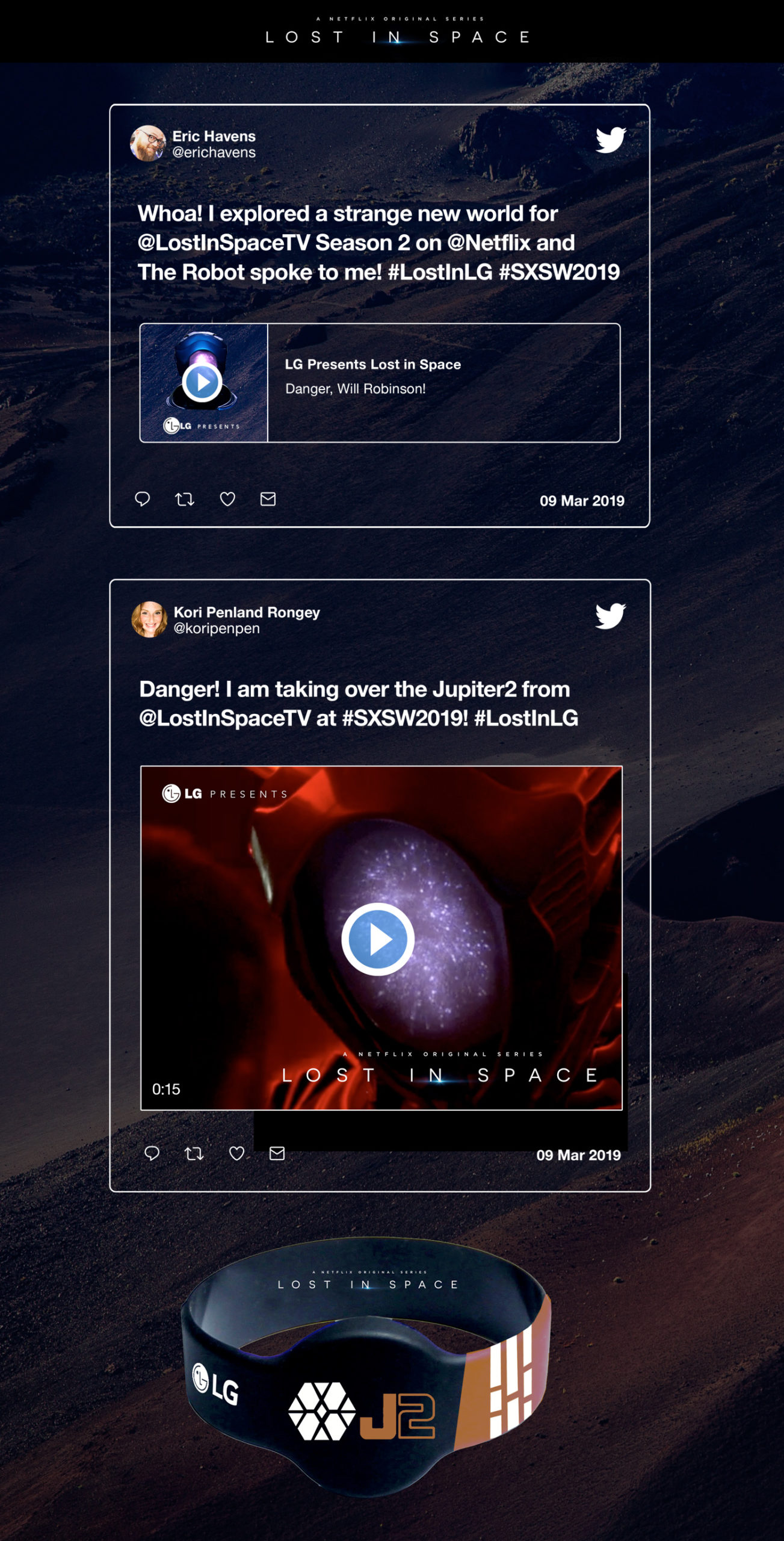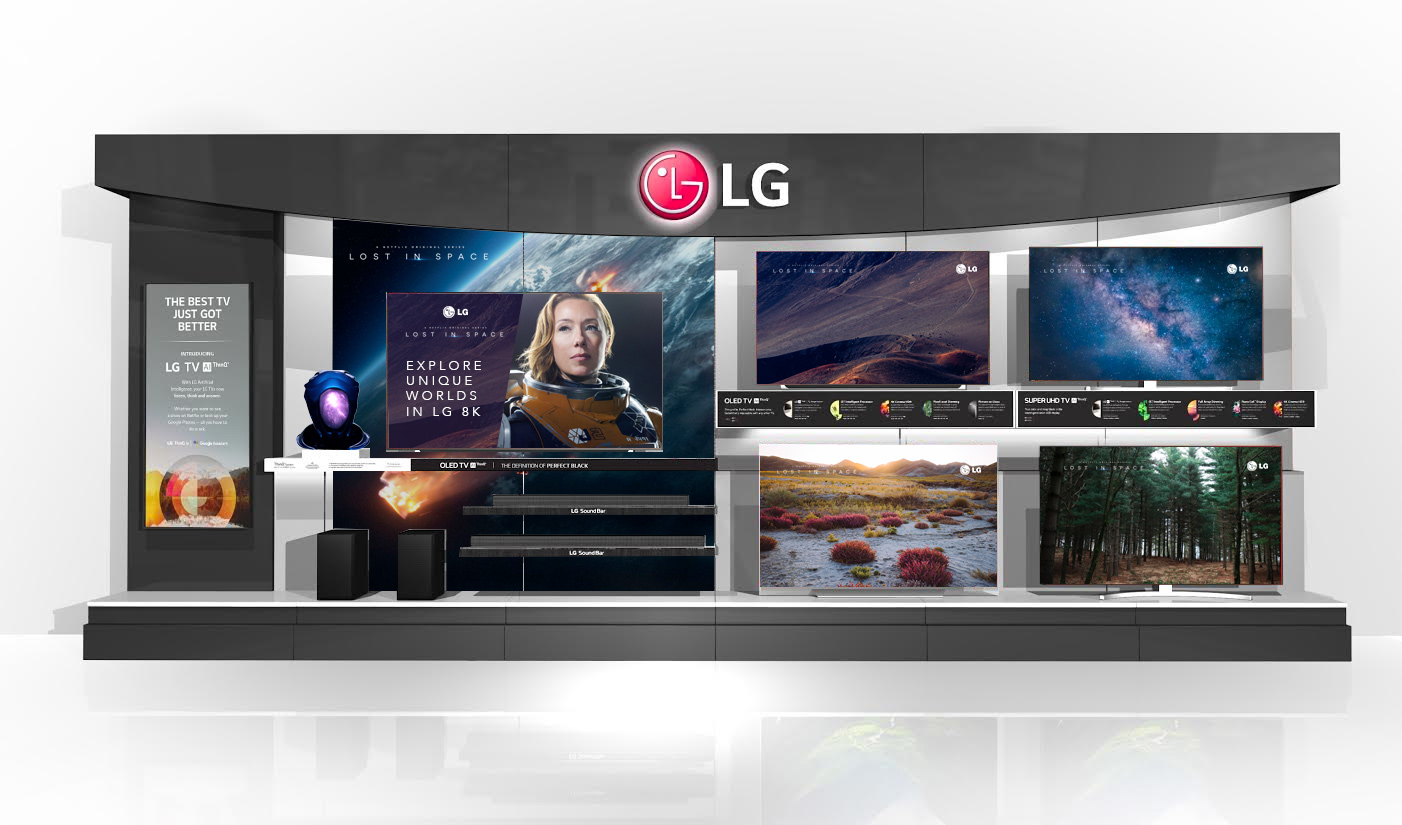 This is merely a conceptual idea that was not actually executed. It is not affiliated or endorsed by, LG electronics, Netflix or Stranger Things. I filed this in the "THINK TANK" category of conceptual ideas.