Square Enix was looking for a comprehensive plan to activate the next chapter of the Tomb Raider franchise at conventions. I took a deep dive and provided a wide range of scalable options in our convention activation plan.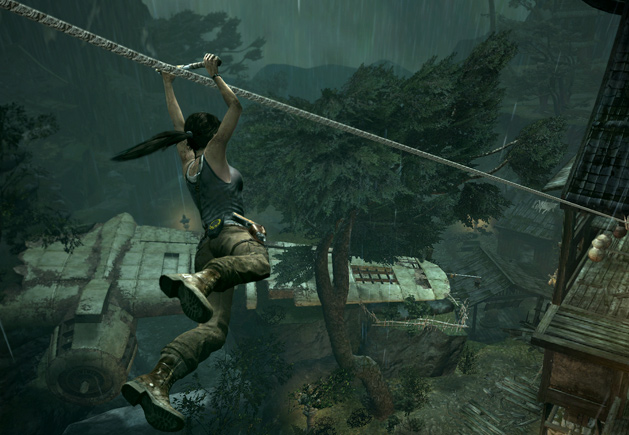 Bringing the Game to Life for Fans

San Diego Comic-Con is known for its big activations. Luckily, the con has spilled outside of the convention center over the last few years allowing more activation space for fans to interact with their favorite characters and franchises. Let's take over a portion of the Petco Park Zone with an experience that lets fans become the Tomb Raider!

Creating the Comic-Con Experience
At our activation attendees can partake in several activities that all put them in the shoes of the Tomb Raider. Our "Capture the Relic" game will take place under the zip line between the pyramid activations. Fans will be assigned one of two teams #TeamRaider or #TeamTrinity. Each team is trying to get their relic back to their tomb or protect their relics from the other team before their digital flags are taken.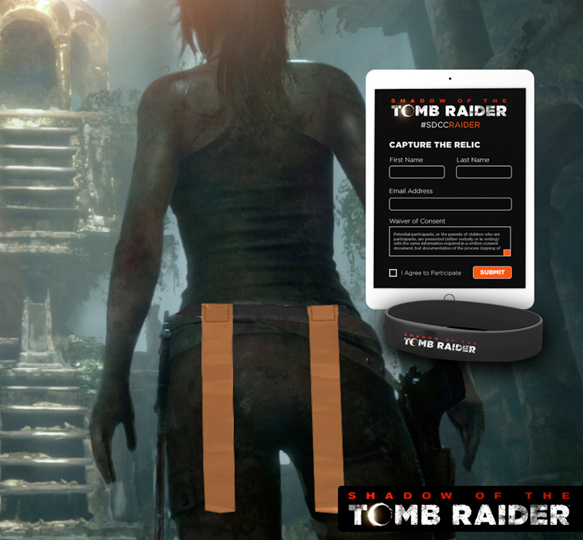 Streaming IRL Challenges on Twitch.
The experience can be broadcast on Twitch as a live-action IRL stream. Between games we can have guest appearances by the creators, voice talent and even from Lara herself Alicia Vikander! The two pyramids feature interactive digital activations and beta hubs that fans could play a scene from the game.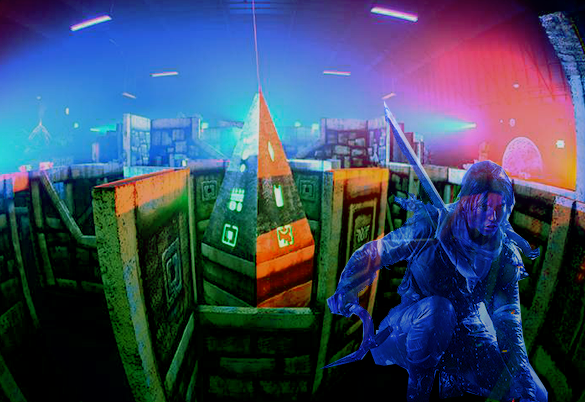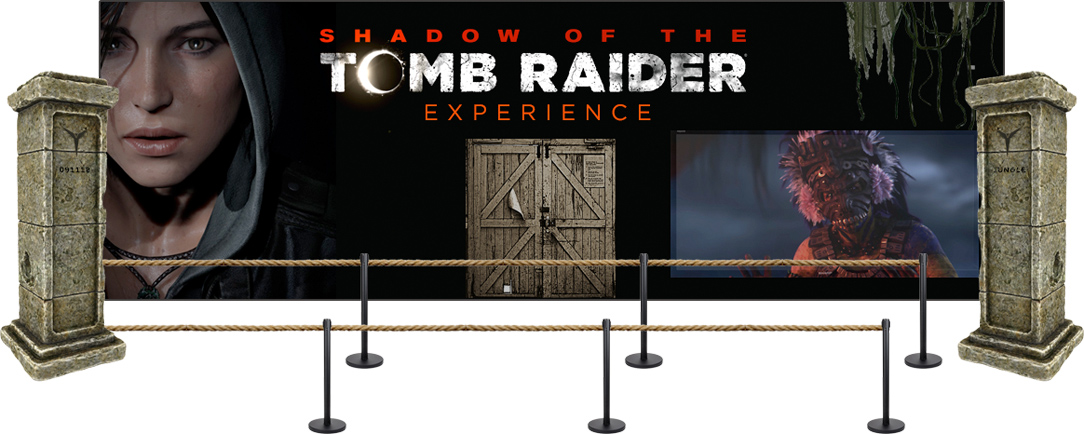 Scalable Ideas Provide Flexibility at SXSW
The SXSW Escape Tomb concept put fans in Lara's shoes as they work through thrilling puzzles and challenges that look and feel like they've been ripped straight from the game inside one of our scalable warehouse activations. The off-site activation included an escape room, interactive experiences, relic museum display and a swag station. Even the entrance to the activation contained hidden easter eggs that would help fans break out of the escape rooms inside faster.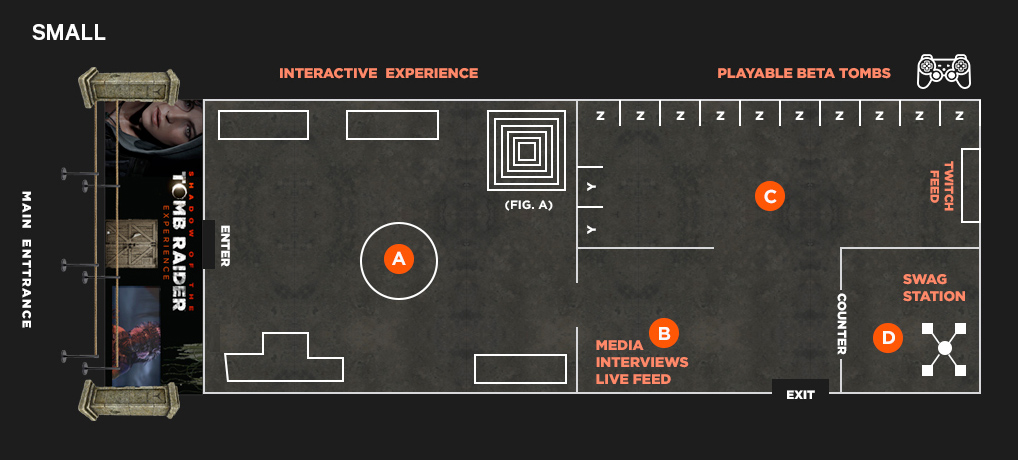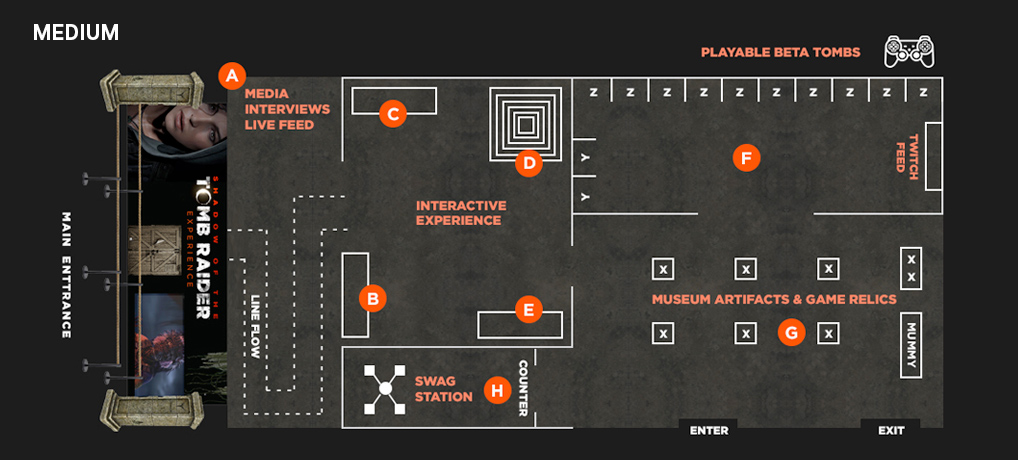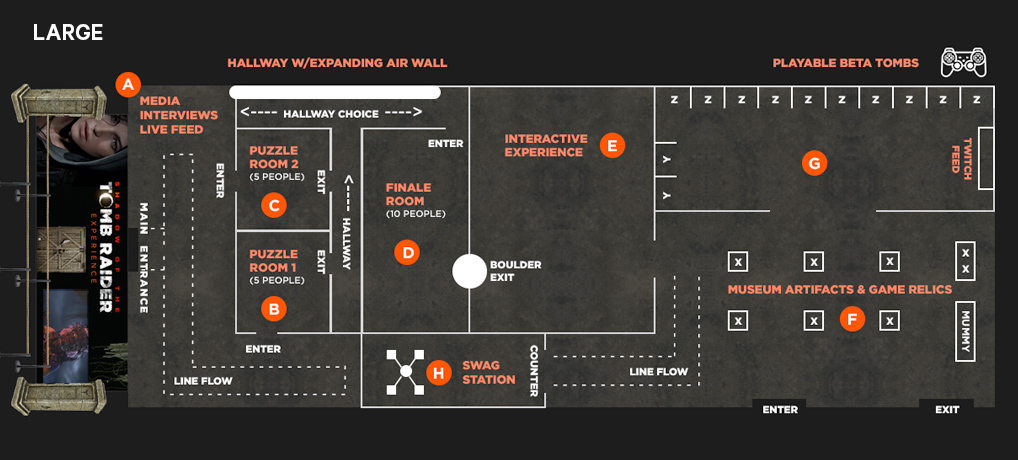 Each escape room allowed 5 participants at a time. They had 5 minutes to escape the puzzle rooms. When time expires, they exited the room and get a wooden coin if they have successfully completed the challenge. These coins could be exchanged at the swag station for exclusive SDCC items. If they complete the finale room successfully, they will get another coin to get a Trinity Patch at the swag station.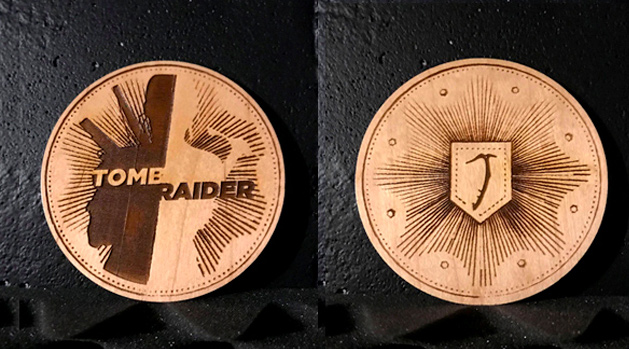 We also created interactive experiences that included a Lara Croft hologram challenge, mini rock wall climb and pryamid plinko. The faux museum displayed outfits Lara Croft wore in the game throughout the years and faux artifacts from previous installments. After fans have experience physical challenges we let them try out a playable segment of the game for themselves in the Beta tomb. Each station setup with a playable demo for the game. Two of the stations would be featured on the live streaming twitch feed to give fans online a sneak peek at what they could expect to see on Shadow of the Tomb Raider.
The most activation stations you participate in the more wooden tokens you would receive to redeem for swag that included one of three t-shirt designs, mini Maglite keychain or a Trinity Patch.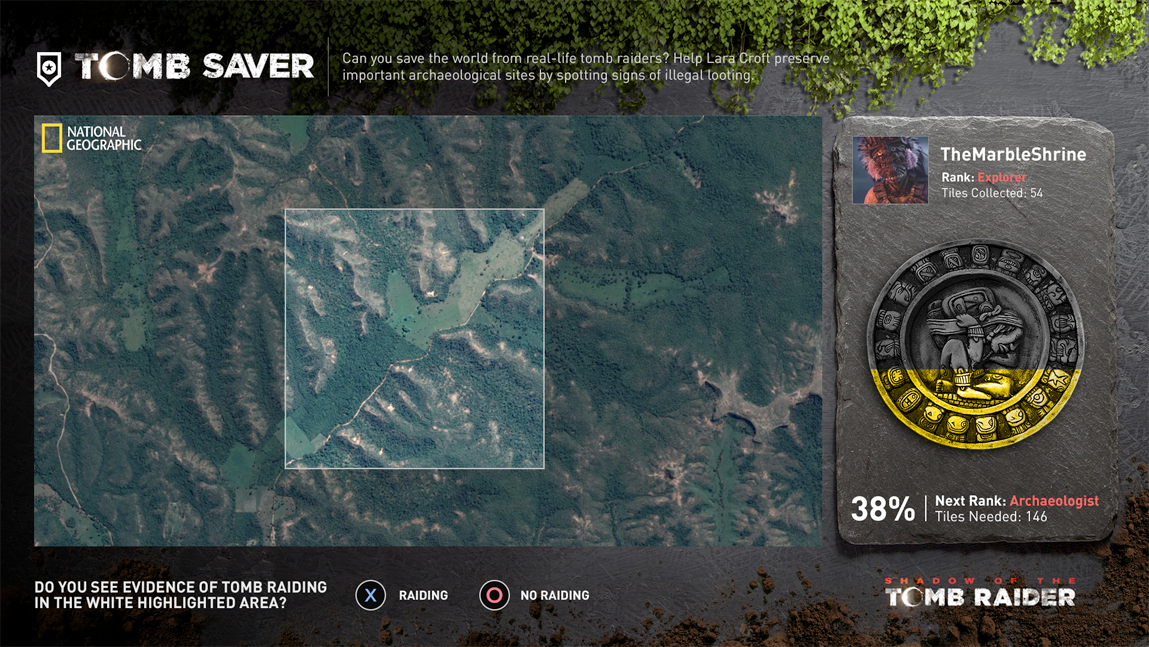 Nat Geo + Tomb Raider = Historic Preservation
We'll give action-adventure gamers the chance to be heroes in real life by partnering with Dr. Sarah Parcak and National Geographic to save ancient tombs from illegal looting.
We'll publish weekly reports with our partner, National Geographic, showcasing the global impact Tomb Saver has made in the fight against looting and encouraging users to keep up their heroic efforts.
These are just some of the ideas we compiled for an activation plan that could be scablable and travel to different conventions.
Marketing Plan of Attack

In addition to these experiential activation ideas the team put together a marketing plan of attack to release trailers, make appearances and unleash the rest of the marketing campaign on key dates and events.
If you would like to see more download the full Think Tank PDF >